Breaking down the 19 steps to fetch a cupping score of 91 points – the seed-to-cup journey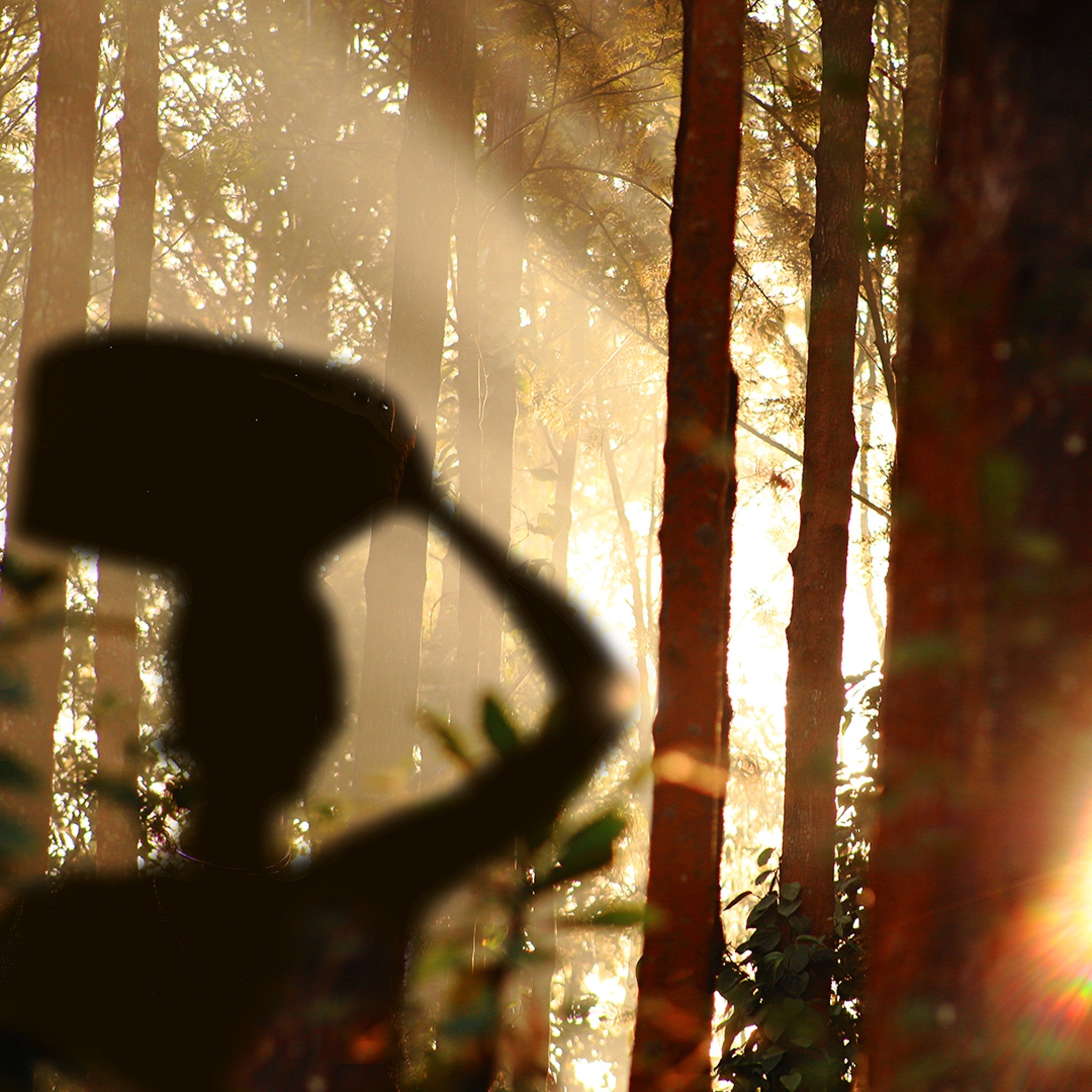 Down To Bedrock
The Earth loses about 23 billion tons of fertile soil every year, making it crucial for farmers to choose practices that restore and build organic matter in the soil. Rather than disturbing the soil by turning it over, we prefer low tilling; lightly move the soil in preparation for planting. This actually improves the soil's capacity to retain water, making it easier for new plants to take root. Our coffee farms lie on hill slopes; they are not tilled, and the forest floor is allowed to remain as is.
Need For Seed 
It starts with picking the right seeds. Selection-9 coffee, an indigenous Indian coffee that is a hybrid between the Ethiopian Arabica Tafarikela and Hybrido-de-Timor, an interspecific cross between Arabica and Robusta coffee. Our farmers save seeds from the mother bush, and work year-round to express their full genetic potential. Every year approximately 150 kilos of seeds are collected – which leads to about half a million seedings!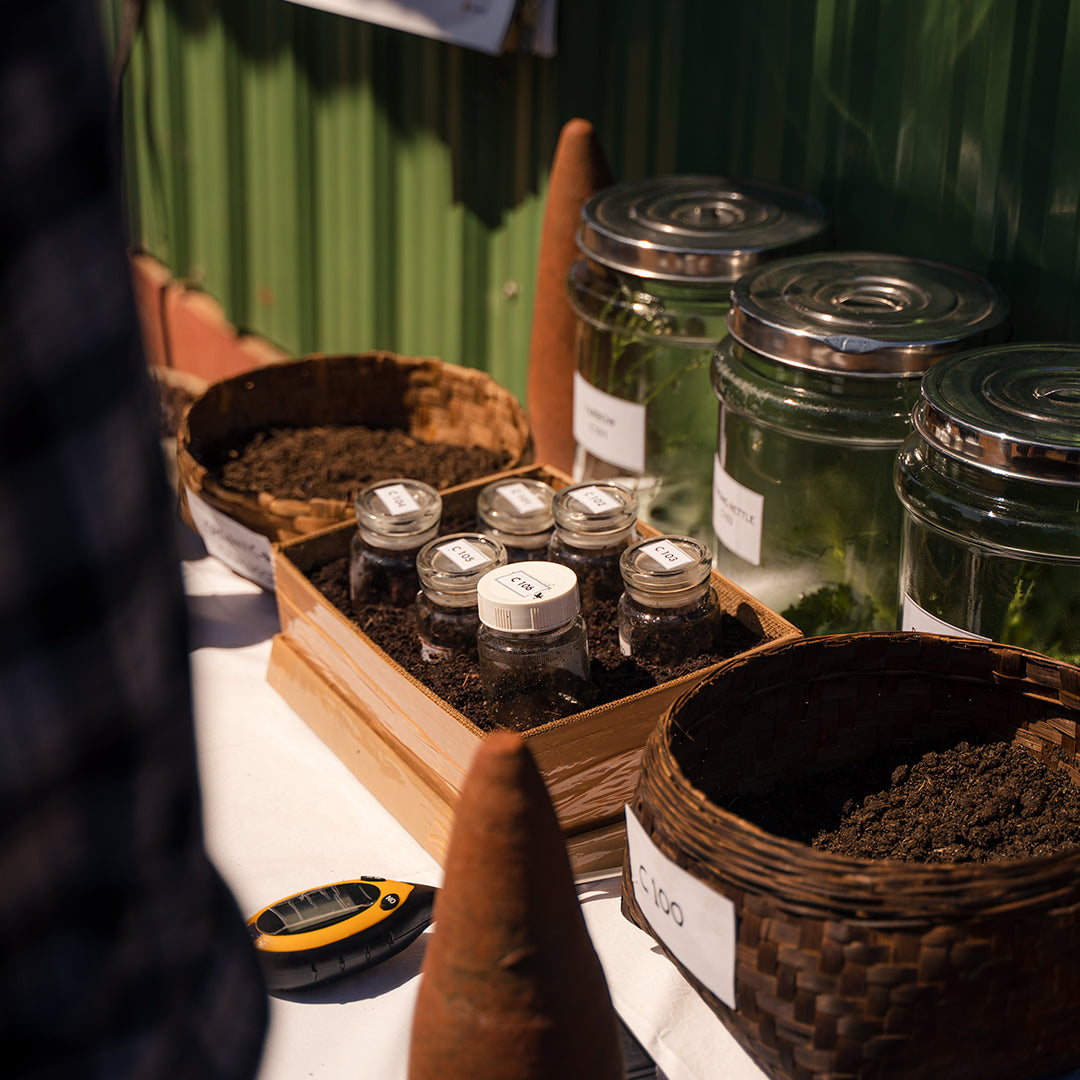 Microbiome = Big Deal
What separates ARAKU Coffee from other coffees of the world are its regenerative agricultural processes. Unlike conventional practices that strip the soil of nutrients, ARAKU has created and patented Organic+ bioinoculants that enrich and nourish the soil. What's in this secret sauce? Cow dung, eggshell powder, basalt powder and a number of locally grown herbs. The coffee seeds are enriched in this secret sauce before they are sown in our central nursery in Hukumpeta, Andhra Pradesh. During the 45-60 days that coffee seeds take to germinate, they are bolstered with the secret sauce regularly, until they grow 2 inches long. At which point they are gently removed and transferred to farmer families across Araku Valley, Andhra Pradesh.
Green Thumbs
Meanwhile, farmer families prepare micro-nurseries that will best nurture the coffee seedlings. Each family readies 50-100 polybags (depending on the number of seedlings), filling each with soil, silt, compost and that much-loved secret sauce. Within three months, the seedlings grow into saplings (sturdy too, with six leaves!), and are transplanted to the coffee farms. We have trained village volunteers to support and guide farmer families all through this process of maintaining coffee micro-nurseries and sensitive transplants.
Two Organic+ bioinoculants are doubly effective when used with the secret sauce (let's call it C100). BLACK100 which is prepared with cow dung in clay cones, to help enrich microbial activity, activate the boron in the soil and improve its water retention. WHITE100 which is prepared using silica quartz crystal in clay cones, and buried in microbe-rich soil from April to September (sapling stage) to bio-activate the silica and nurture the plants'photosynthesis.
Tree Is Company Too
Your coffee actually tastes like the forest it grew under! The most crucial distinction between ARAKU Coffee and its counterparts is the diverse and indigenous fruit forests grown by the coffee farmers. This is done with very strict scientific and agricultural support from experts who have helped reintroduce native species into the region, restoring Araku's biodiversity. As many as 21 horticultural species of fruit, forest, and shade trees – like chikoo (sapota), custard apple, grapefruit, lemon, jamun, gooseberry and Spanish cherry – provide an alternative source of income for the farmers. (contd.)
Tree Is Company Too
We've also introduced biomass-rich trees and timber trees like gliricidia, mahogany, arjuna and dadaps. Trees that are crucial in enriching the floor of the coffee farms with their annual leaf fall, which helps restore organic matter in the soil. The entire exercise is mapped and organised to create a multi-tier primary and secondary shade. Coffee is sensitive to direct sunlight, and the varying heights of canopy helps grow beans of a superior quality. Biodiverse coffee farms also help keep the average temperature lower than a mono-shade coffee farm; higher temperatures make farms susceptible to pests. What's more, indigenous forests make excellent guardians for a coffee farm, as these deep-rooted trees can withstand climatic changes like high winds and heavy rains.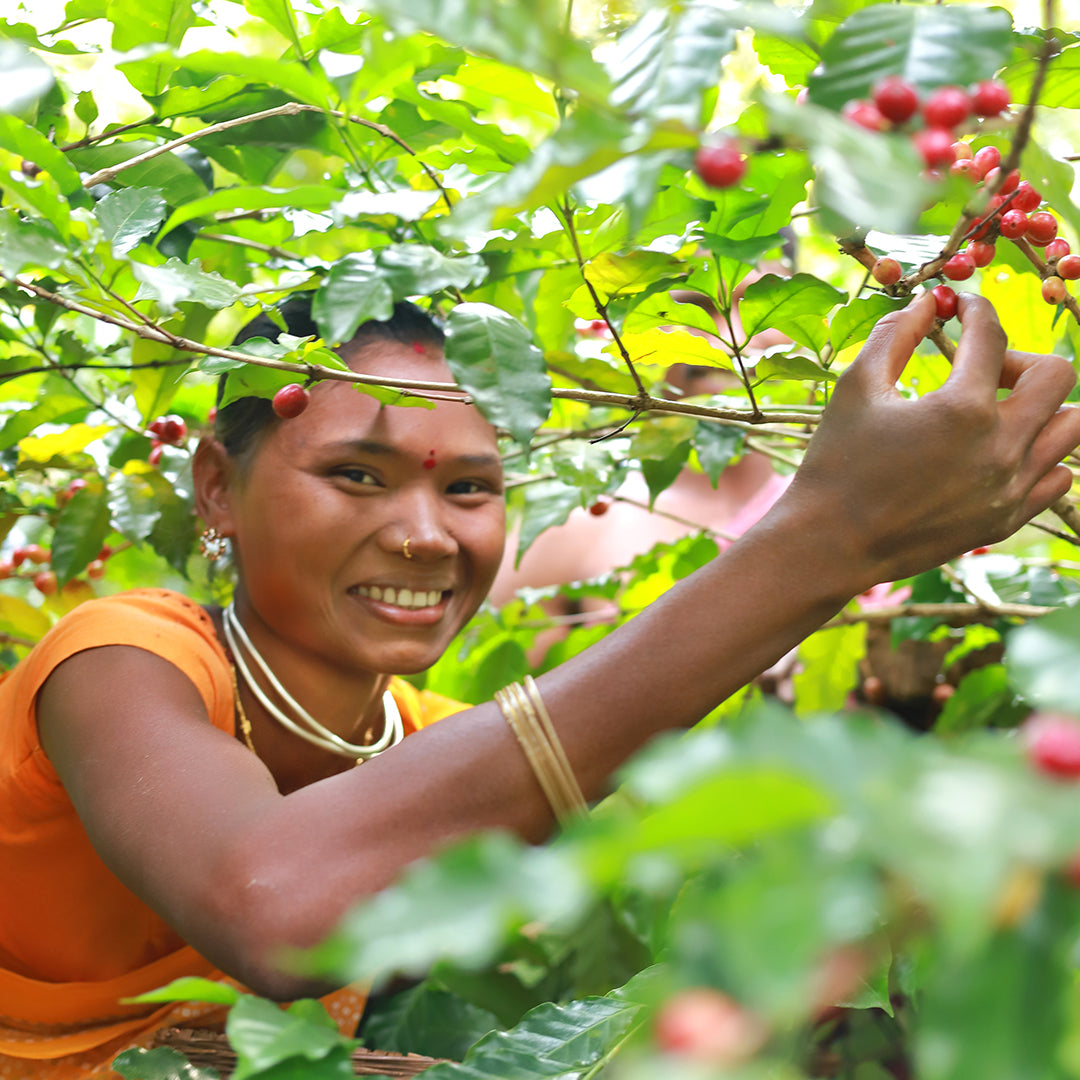 Back to (Farm) School 
Tree pruning and shade management is key to ensuring that the coffee bushes get just the right amount of sun — too much and the leaves will brown, too little and the berries will ripen unevenly. This is where the Farmer Field Schools come into play. Farmers select two volunteers or peers as village representatives, who are trained by experts from around the world on the best regenerative agriculture practices. The training is held on farms every fortnight and covers subjects relevant to the time of year, with live demonstrations and Q&A sessions. The volunteers then return to train their counterparts in the village. These scientific learnings, concerning coffee seedlings, planting fruit or forest trees, shade management, tree pruning and lopping or pest management, transform ARAKU's farming community into entrepreneurs. One of the key annual sessions focuses on harvest – quite literally, cherry picking!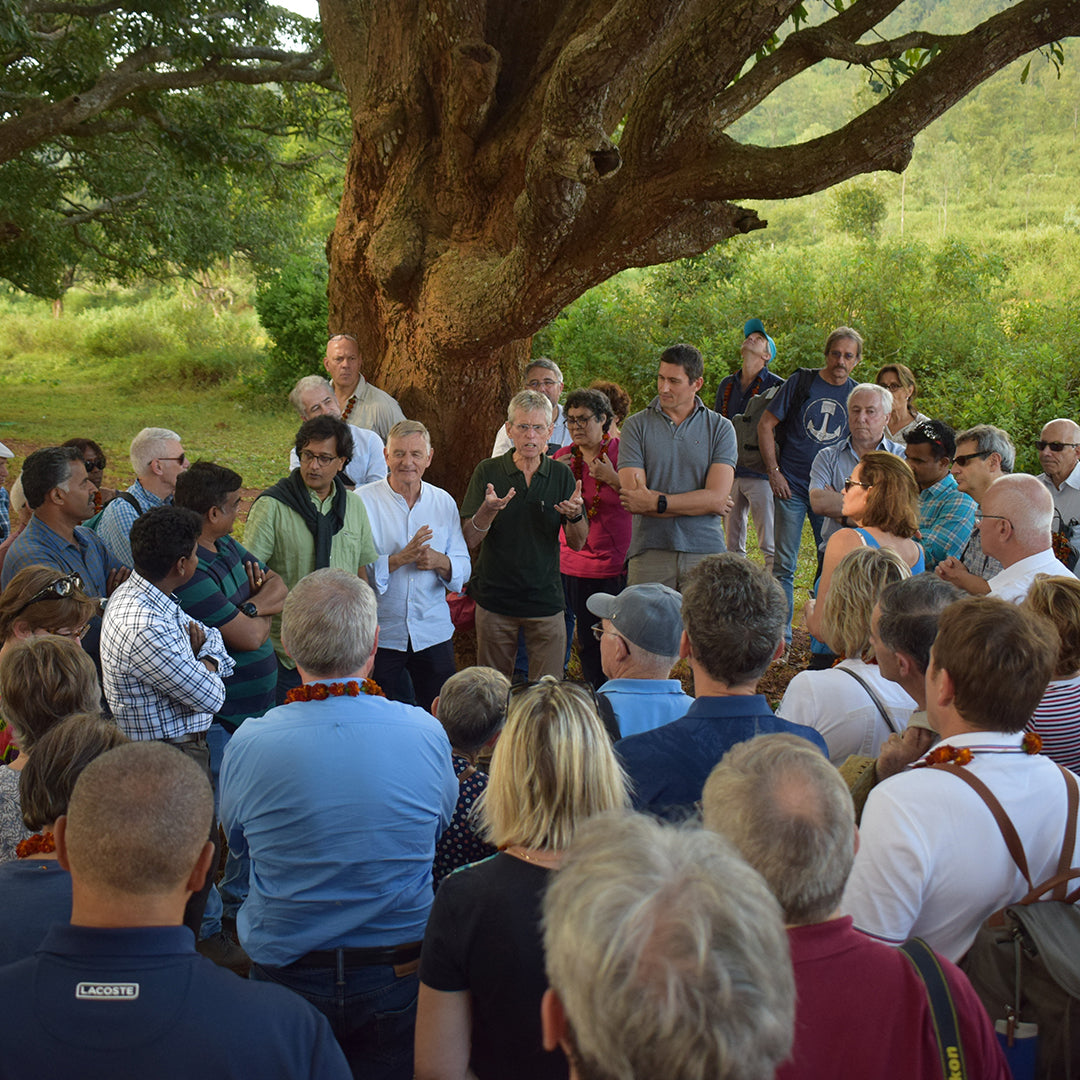 Terroir Speaks
Terroir is a crucial part of ARAKU Coffee's distinct taste. A French word that means "earth" or "soil", "terroir" in the world of wine and coffee refers to the culmination of the climate, soil and human actions in originating a product. It's what makes Araku Valley's coffee distinct from Colombian, Brazilian, Ethiopian or Indonesian coffee. We mapped the terroir of the coffee farms in Araku Valley, which helped us identify and segregate plots to grow six unique coffees: Signature, Grand Reserve, Micro Climate, High Altitude, Early Harvest and Selection. The farms within the unique terroirs are independently managed by coffee farmers, but are uniformly nurtured with regenerative agricultural practices. Ahead of the harvest festival, Gems of Araku, an expert panel of microbiologists, scientists, coffee and agriculture experts from around the world visits the finalists to analyse their farm health – factoring in biodiversity, level of mulch, pruning, shade management, weeding, pest control, application of Organic+ bioinoculants, and interest in regenerative agriculture practices. Based on the panel's inputs and evaluation by an external expert, the farmers are awarded titles such as Best Farmer Family, Best Village, Most Improved Farmer Family and Most Improved Village. We have been celebrating the farmers of Araku since 2009 for their role in creating a world-renowned specialty coffee brand while restoring the region's biodiversity. Their reforestation efforts have brought back spiders, earthworms and birds that had once fled this deteriorating landscape.
All About #Arakunomics
ARAKU Coffee is defined by three Ts: traceability, transparency and trust. The Rockefeller Foundation recognised #Arakunomics philosophy is a step in that direction — a decentralised approach to farming that safeguards the environment, while placing profits in the hands of the farmers. We've helped connect the dots between infrastructure, logistics and marketing such that it allows farmers to sell their specialty coffee directly through flagships in Paris and Bangalore. With power and knowledge of the supply chain back in their hands, they were able to break out of abject poverty and become entrepreneurs – even as they delivered world-class ARAKU Coffee that is certified Organic and Fair Trade Certified™.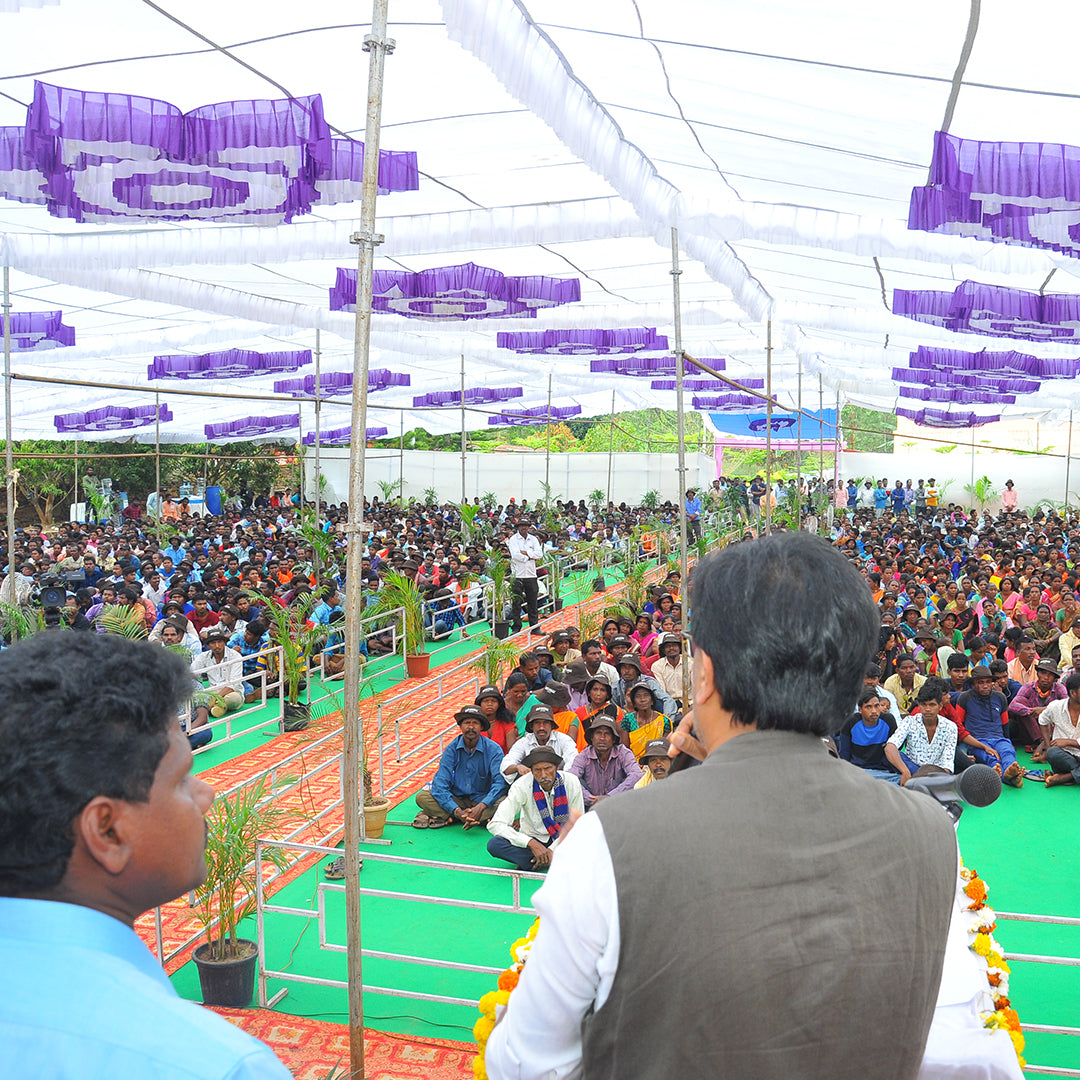 Coffee Collective
The far-reaching network of farmer volunteers across each and every village of Araku is thanks to ARAKU's coffee cooperative called the Small and Tribal Farmers' Mutually Aided Cooperative Society. SAMTFMACS is currently the world's largest Fairtrade, Organic-certified coffee cooperative. It works in 524 villages with 10,000+ farmer families spread over 12,000 acres of land, and has been crucial in aggregating ARAKU's coffee farmers to international markets by giving them shared value and access to the global coffee supply chain.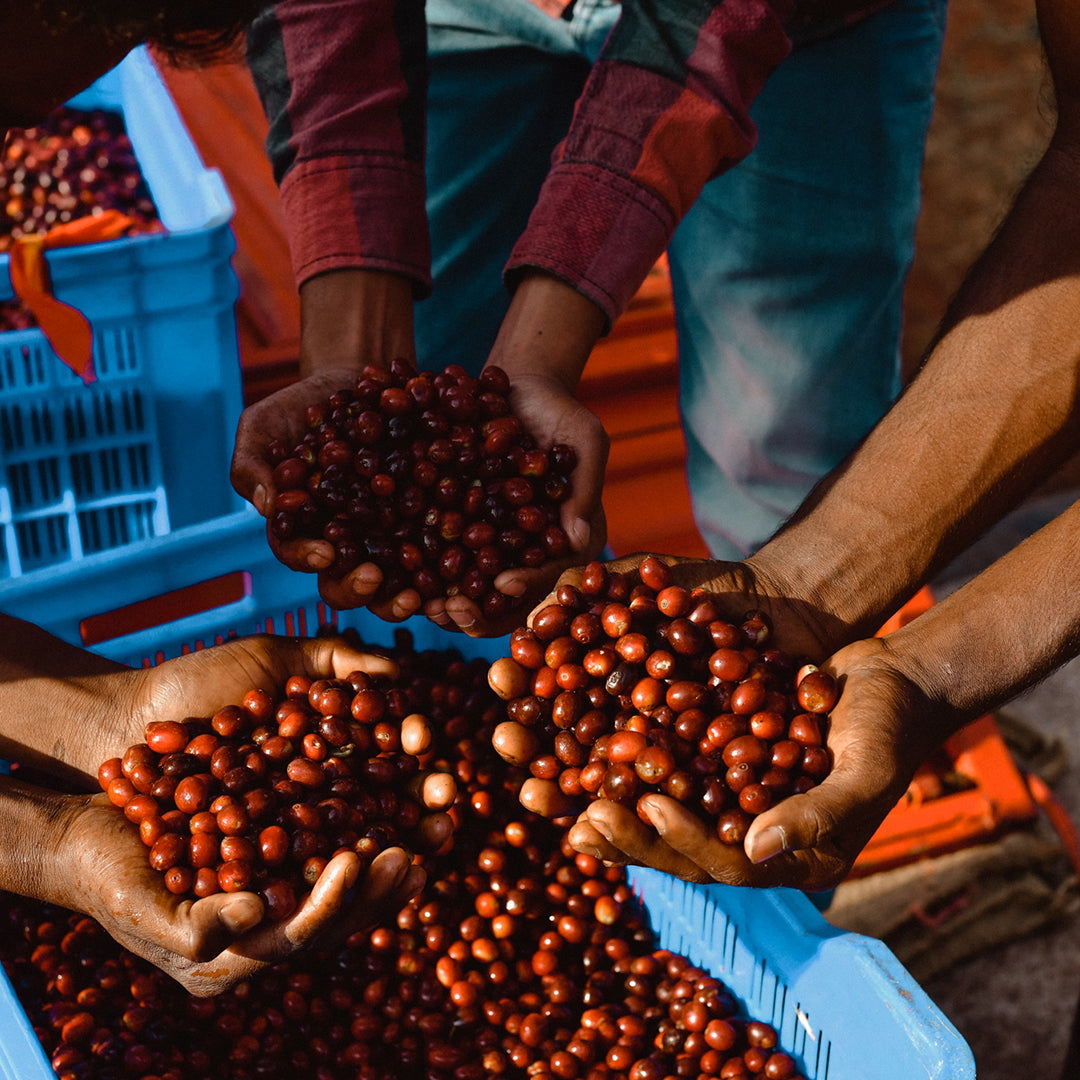 Cherry Pick
The coffee cooperative, aka SAMTFMACS, and their volunteers have helped us train hundreds of farmers annually to address a crucial stage of coffee harvest; identifying and vetting crimson red cherries. An even, crimson lot of cherries is considered Grade 1 and valued higher than any other shade of red cherry (Grade 2). This isn't just a matter of profit but also prestige, of being able to rebuild a coffee forest with an exquisite yield. Building transparency with the farmer community is a constant exercise. All farmers are invited to the village centre, where the trucks arrive to collect the coffee cherries. The farmers segregate their coffee cherries into Grade 1 and Grade 2 bundles at home. A member of the coffee cooperative oversees the entire coffee collection and weighing process at the village centre. The quantity and quality of produce is documented in the farmer's SAMTFMACS passbook and in the procurement sheet for each village, such that everyone is in the loop.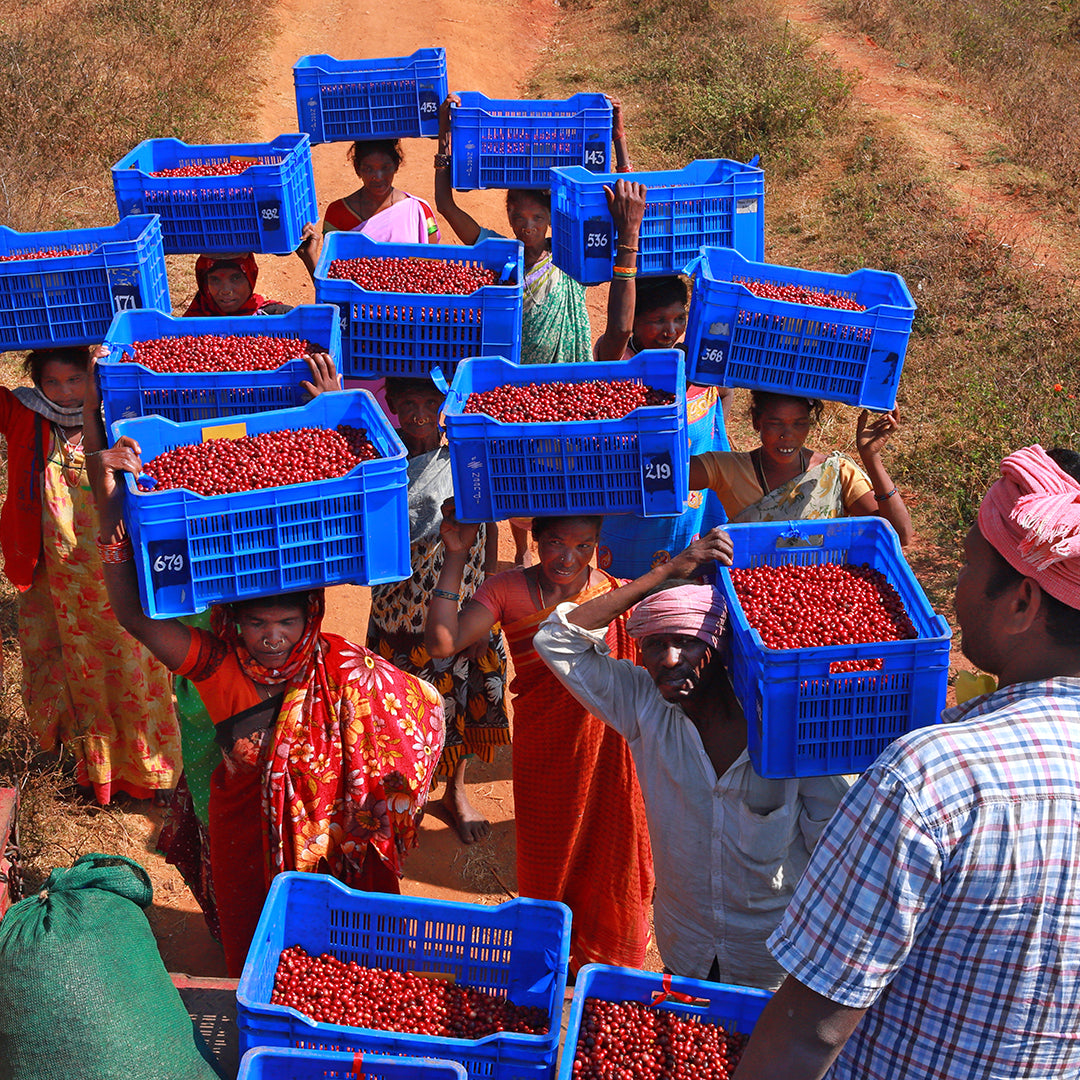 Red Truck Revolution
In Araku Valley, where farmer families have traditionally lived on subsistence agriculture (ie. growing their own food), one of our biggest challenges was streamlining coffee collection among tribal farmers unfamiliar with production lines and the need for meeting homogenous quality standards. To efficiently cover the 500+ villages that supply ARAKU Coffee, a detailed procurement plan is made every year that prioritises Red Truck Villages, Blue Truck Villages, and Yellow Truck Villages. In a Red Truck village, coffee farms are in excellent health, there is maximum diversity of different terroirs, and farmers collectively produce 5,000 kg or more of premium, Grade 1 crimson cherries. Red trucks and cherries have turned into an aspirational symbol of prosperity. Farmer families work together as a community to turn their village into a Red Truck Village. One can be sure that a Blue Truck Village is in the process of becoming a Red Truck Village. As of 2020, we identified 21 Red Truck Villages. Yellow Truck Villages supply organic coffee worthy of exports and blends. In 2020, 77 Yellow Truck Villages were identified.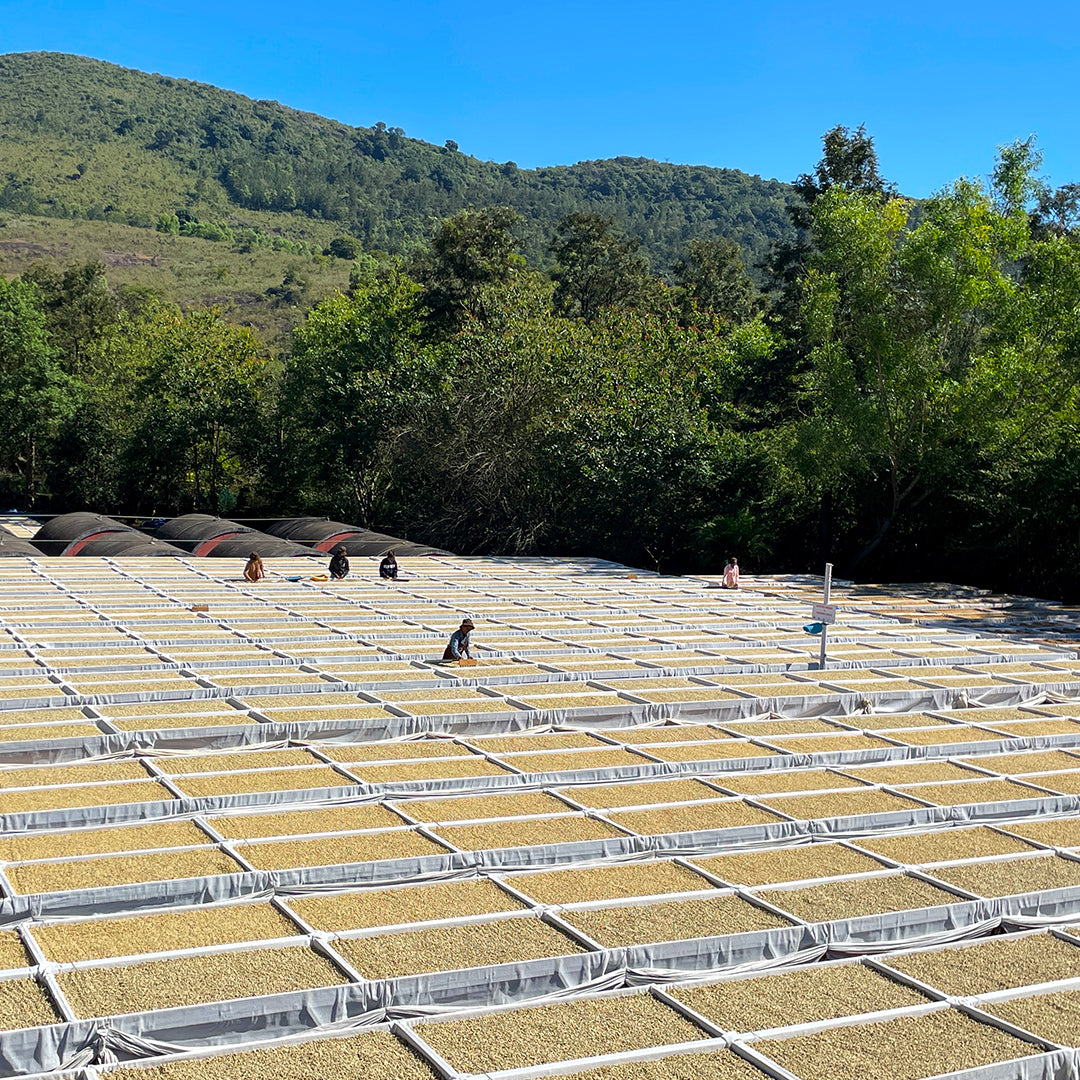 Process, Process, Process
Freshly harvested coffee cherries are then taken to the Coffee Processing Unit (CPU) on the same day of collection to be washed, dried and treated further. This state-of-the-art campus, the beating heart of Araku Valley, is spread across 6.3-acres with a drying yard (featuring raised beds) and pulping unit. The CPU also has an attached 2-acre farm where we cultivate fruits, vegetables and – most importantly – the herbs and flowers that go into our Organic+ bioinoculants. Think yarrow flower, German chamomile, Himalayan oak and dandelion.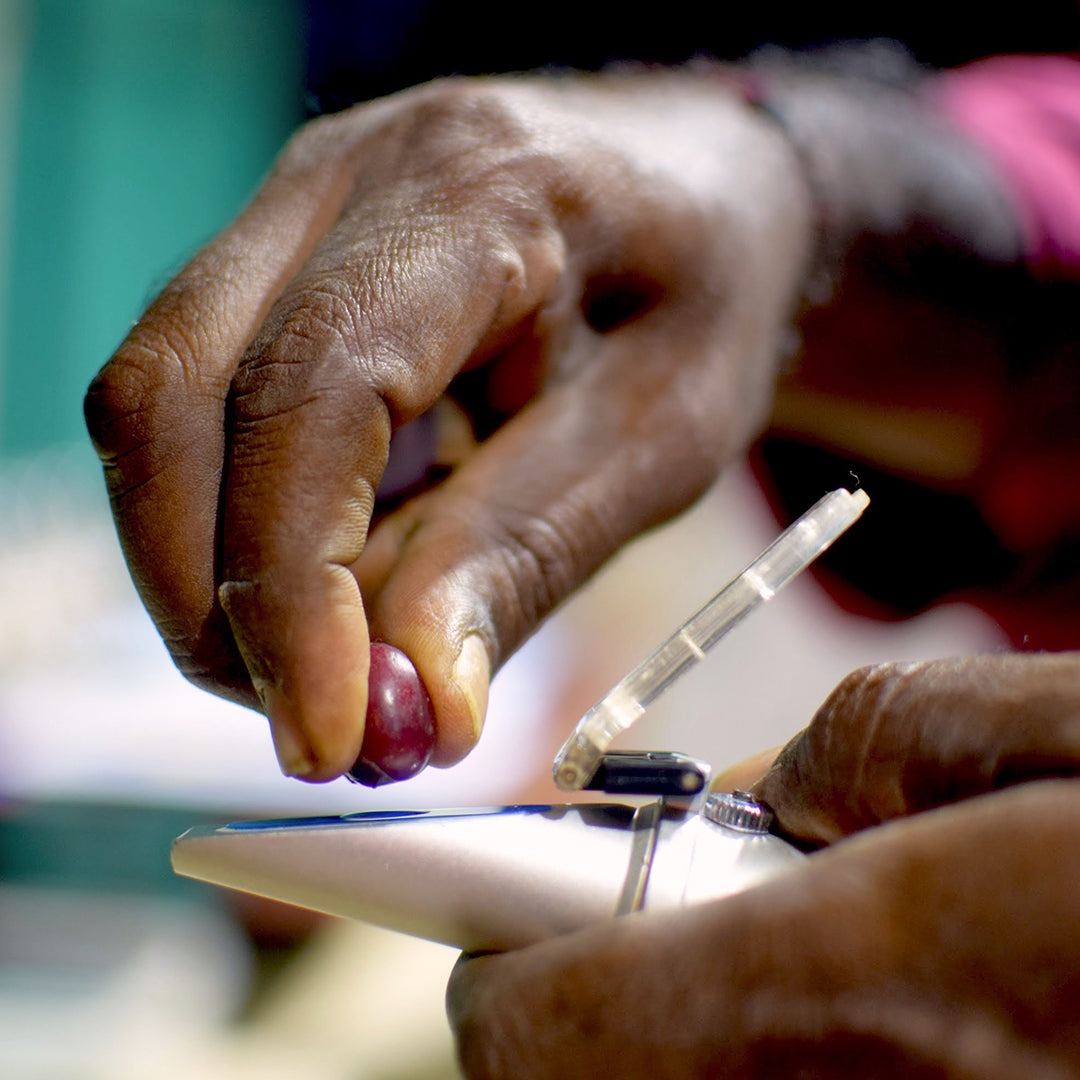 Brix By Brix
At the CPU, a team of experts conducts a second quality check on every arriving crate of coffee. The team also indexes the sweetness of coffee cherries using the Brix meter. Cherries picked for ARAKU boast a Brix reading of 20 and over, so any lot that records a Brix reading of 15 or below is composted. The cherries are also checked for density, as we use only those that sink in a fruit-receiving water tank. Each of the six coffees, from different terroirs, are then processed in unique ways that express their full potential.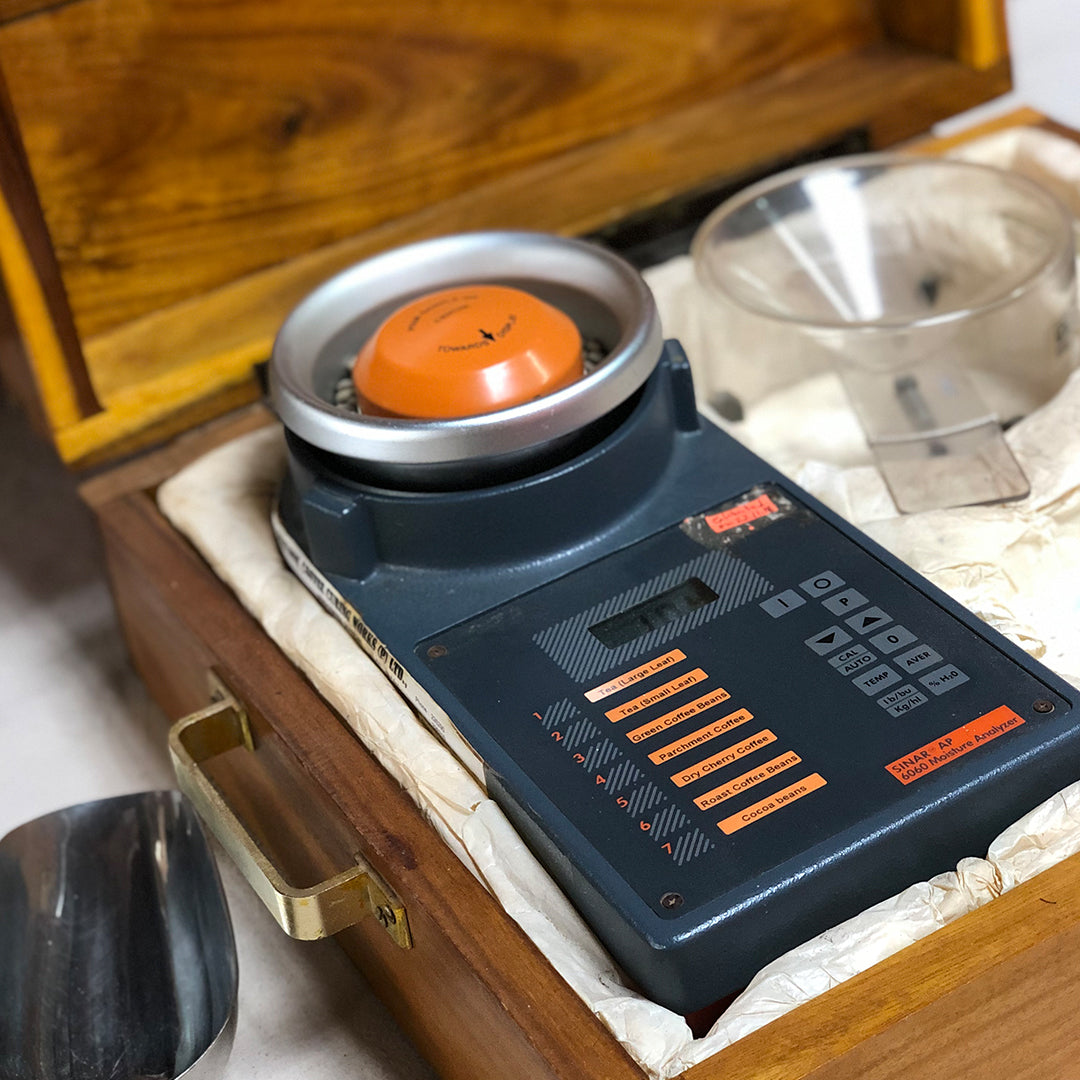 Dry Run
Coffees vary in their moisture limits. Natural coffee is dried for 15-25 days to maintain a moisture level between 10% and 12%, while washed coffee is dried for 7-12 days to keep the moisture levels between 10% and 11.5%. Meanwhile, pulp-sundried or honey coffee is dried for 8-15 days to maintain a moisture level between 10% and 11%. The moisture levels are accurately captured on moisture meters and the coffee is carefully observed for optimum levels of moisture. After the drying process, our coffee enters the next stage of treatment called "curing". 
Coffee Cure(s)
Curing refers to a series of machine-assisted and manual operations through which raw coffee beans are converted to clean and (literally!) green coffee – devoid of husk and parchment. Coffee beans, at this stage, are ready for storage or transport. ARAKU Coffee is cured in IMO-certified organic labs and curing centres in India. The first step for curing natural coffee is hulling, which involves the removal of parchment skin that surrounds the coffee bean. For pulp-sundried, washed and semi-washed coffee, the first step is peeling and polishing; any silver skin that remains on the green bean is removed by a polishing machine to enhance its appearance. In the second step, the green beans are inspected in a colour-sorting machine so that any spotted, brown, dark or unevenly shaped beans can be removed. Manual garbling is the third step, wherein a team of experts manually inspect the green coffee for any further discards.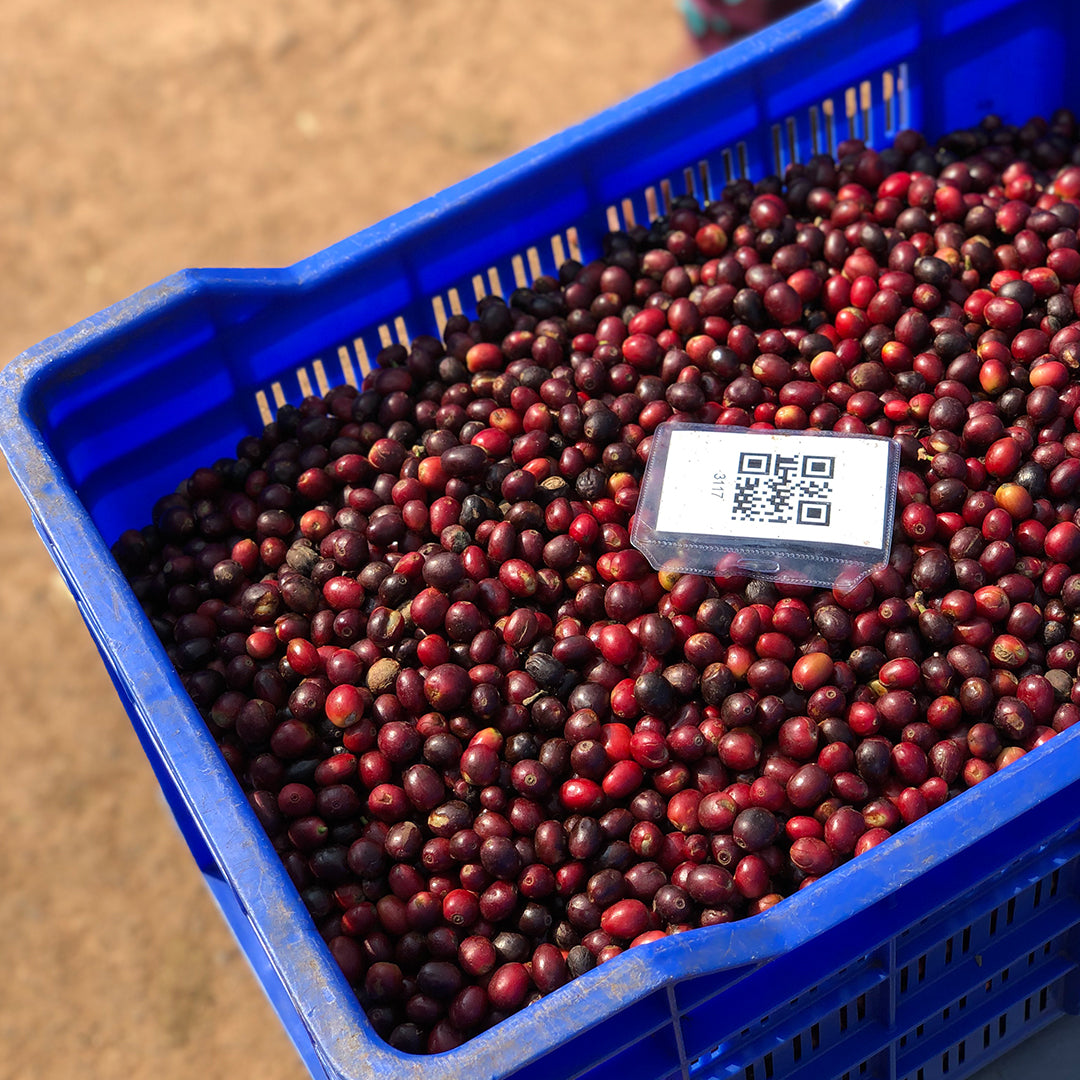 Track & Trace
We can tell you all about the farmer families, villages, mandals, terroir, date and type of process, date of storage, date of transport for curing, date of roasting (more on that, soon!) behind your cup of ARAKU Coffee! Every time the coffee changes hands, its details are meticulously logged into the transparent system. Even the data surrounding quality is easily accessed. Right from the time the cherries are procured at the village level, each crate carries indicators of its quality, the farmer and the farm. On reaching the CPU, coffees of the same quality from the same terroir, are processed as one lot.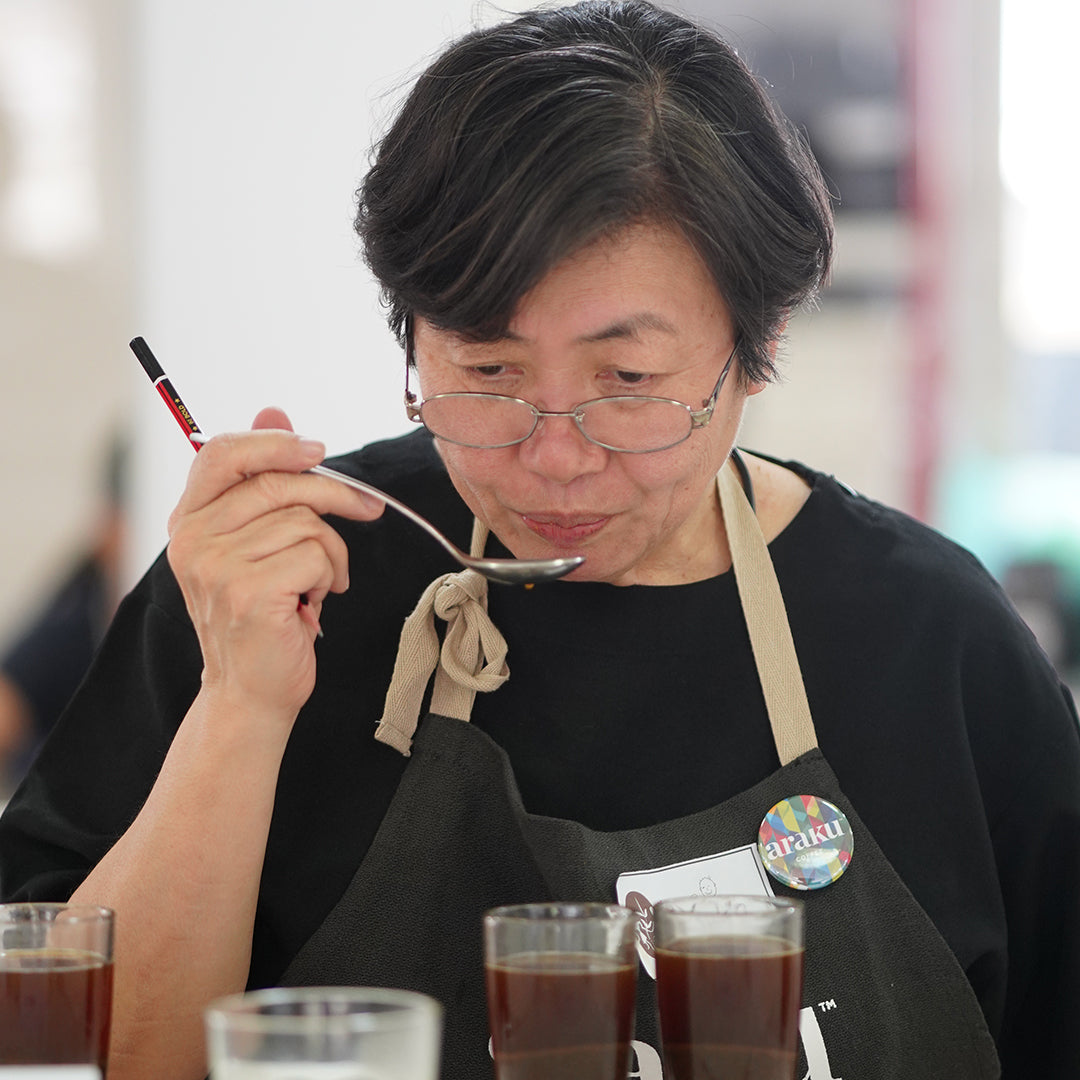 Global Experts, Local Coffee
Gems of Araku, the annual coffee-harvest festival, draws experts from around the world. It's where ARAKU Coffees (even beyond the ones listed on the site) are judged and scored by coffee roasters and cupping experts from across the globe, some of whom are Specialty Coffee Association (SCA)-certified trainers or members of the Cup of Excellence. The SCA is a non-profit, representing thousands of coffee professionals, which supports activity to make specialty coffee a thriving, equitable and sustainable enterprise for all across the global value chain. The SCA scores coffee on a scale of 1-100 through a rigorous cupping/tasting process, based on 10 principles: fragrance, flavour, aftertaste, acidity, body, uniformity, balance, cleanliness of cup, sweetness and an overall score. Specialty Coffees score 80+ points for their clarity and complexity and they are in the top 5% of global coffees; premium coffees fetch 95 points or higher. In 2020, we broke several records. This was the first time all ARAKU Coffees were declared as specialty coffee by an international jury from Bulgaria, Canada, and the USA. Two coffee lots scored 95 points in the Specialty Coffee ranking; the highest score in ARAKU's cupping history yet, putting them in an exclusive club of less than 20 such handpicked coffees from around the world. That very year, 19 coffee lots scored above 90 points. All of the 30 coffee lots scored 85 points and above, boldly declaring their specialty coffee status!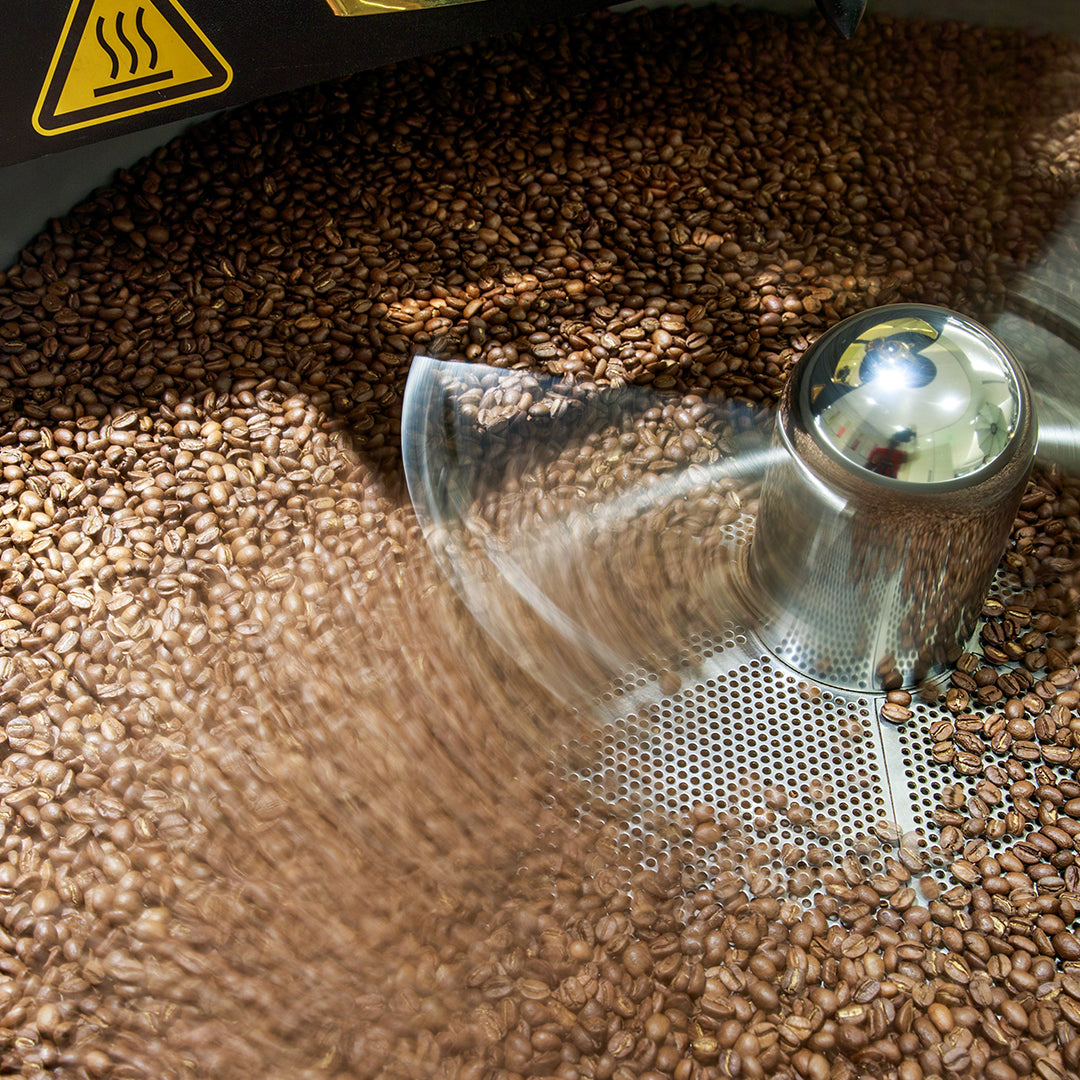 Signed, Sealed, Delivered
These award-winning coffees are auctioned as micro lots to the highest bidder via gemsofaraku.com. The recognition and financial reward enables farmers to improve the economic model of their farms. Gems of Araku helps individual farmers build direct, long-term relationships with buyers who appreciate the coffees they produce. Our global buyers prefer green coffee beans since they can roast the coffee to make their own blends. We export our world-class green beans to South Korea, Switzerland, Canada, United Kingdom, Japan, France, Bulgaria and Ukraine. For ARAKU's Signature, Micro Climate, Grand Reserve, Selection, High Altitude and Early Harvest coffees, we roast green beans at our café and roastery in Bangalore – daily! The coffees are roasted-to-order, right before they are served in the café or shipped to your doorstep, anywhere in India. This flagship also happens to be home to India's first globally-accredited Speciality Coffee Association Premier Training Campus. The campus also offers courses on green coffee, barista skills, brewing and roasting, taught by authorised SCA trainers. In fact, all our baristas and roasters have been trained by Sherri Johns or other SCA-certified trainers.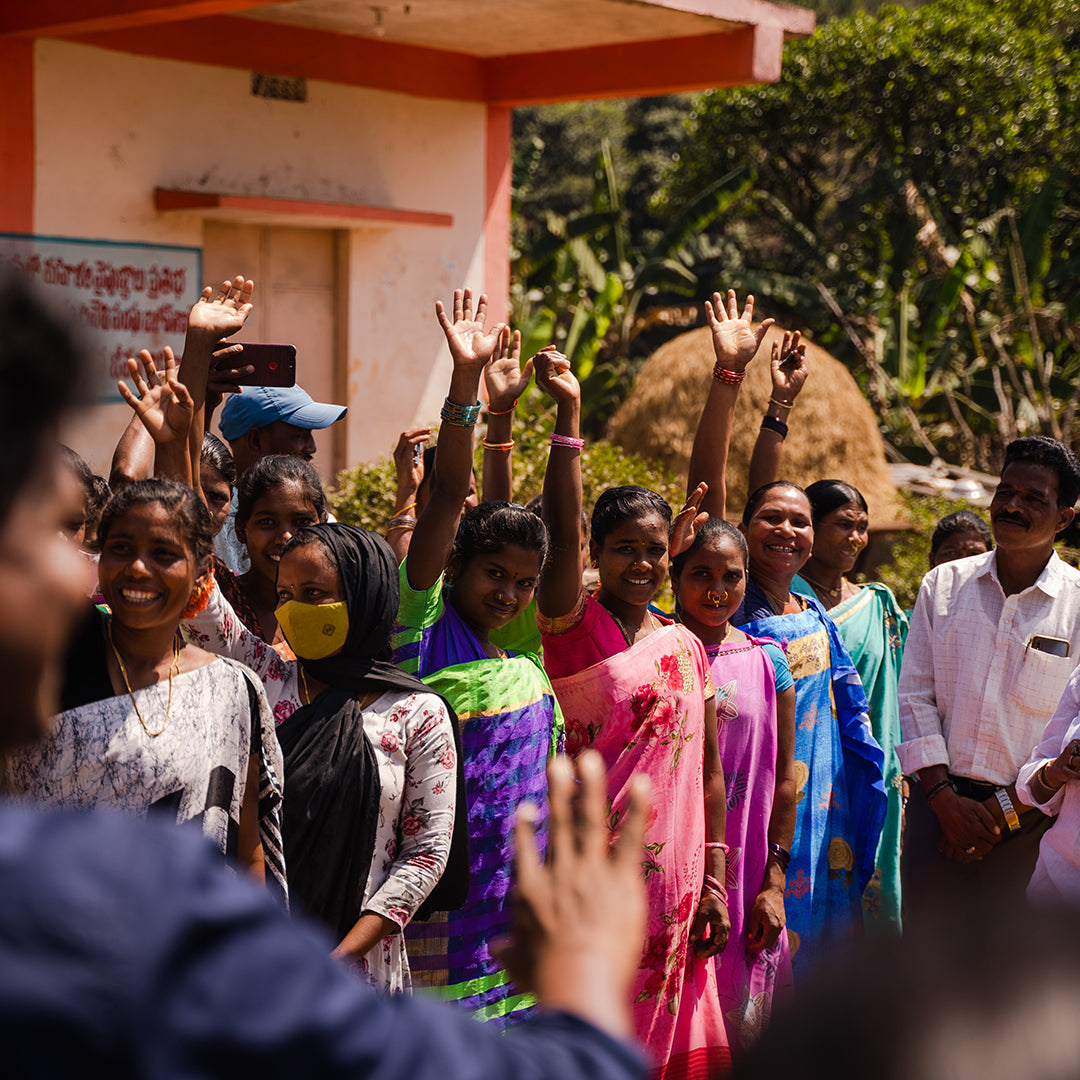 Farmers, Volunteers & You
Bringing you India's first terroir-mapped coffee, which is both organic and fairtrade certified, has been a rollercoaster ride, now over 20 years in the making. It's taken tireless efforts by team Naandi Foundation, village volunteers, members of the coffee cooperative, and finally the heroes of our story — the farmers of Araku. Through ARAKU Coffee, tribal farmers from the Eastern Ghats of India have had their work celebrated in the heart of Paris, at our very first flagship, and namma Bengaluru, our first flagship at home. #Arakunomics has transformed lives, and has since become a model recognised by The Rockefeller Foundation's 'Food System Vision 2050 Prize'. In 2018, the World Economic Forum shared our journey, describing "how indigenous Indian farmers are fighting deforestation with gourmet coffee." It's all been possible because of you—you have helped make ARAKU Coffee a globally-acclaimed specialty brand. For your trust and faith in homegrown, premium coffee, and for your unwavering support.