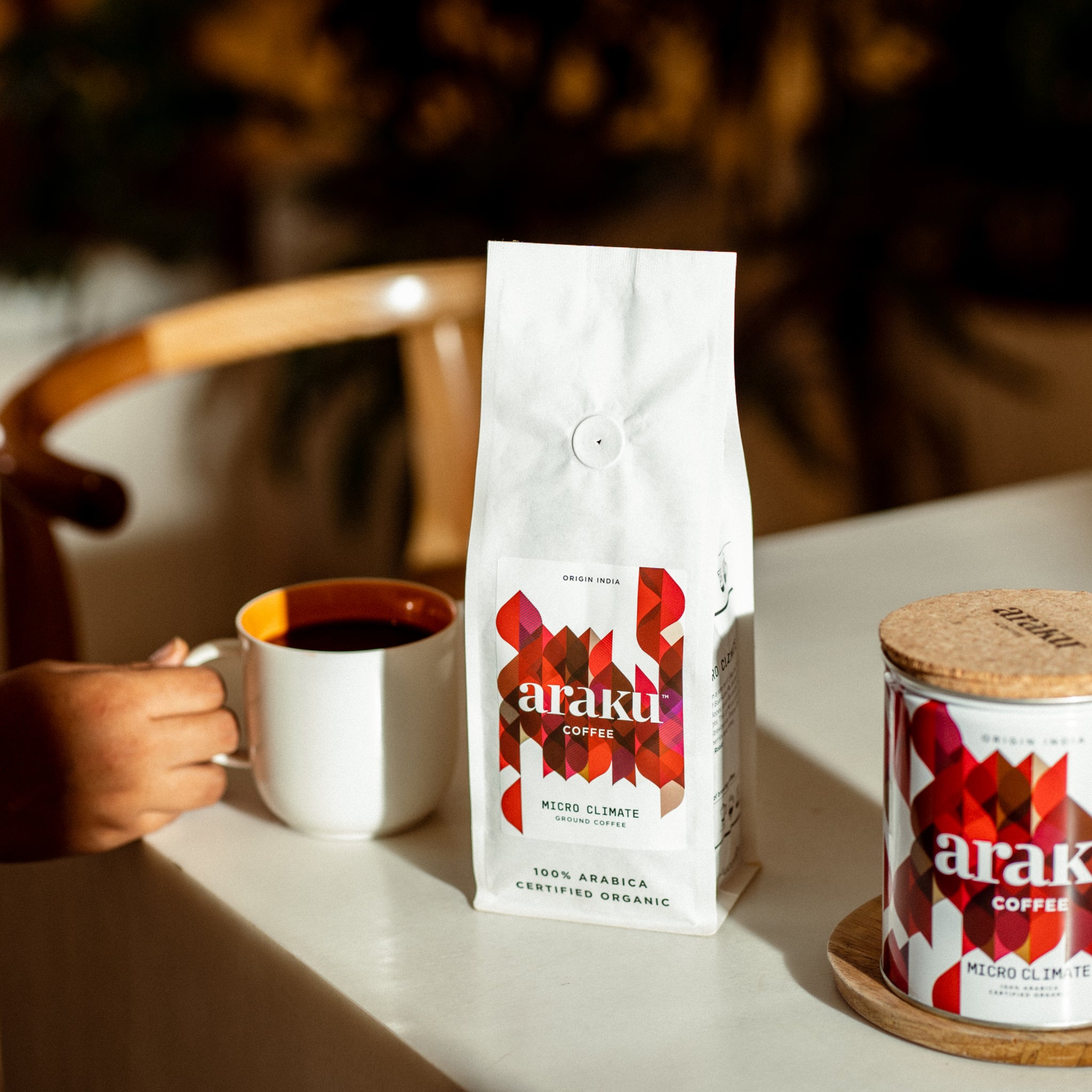 medium roast
Micro Climate
Grown in a rare terroir, like the riverine island of Baankubedda, distinguished by gentle slopes, diversely shaded highland microplots. This coffee is a natural process.
Not sure which grind to order? Checkout our grind size chart below for a quick brew tip!
TASTING NOTES
Strawberry
Olives
Honey
Cherry
Cacao
Grapes
GRIND SIZE
Grind Guide
Picking the best grind for your coffee brew
Fine

Aeropress, Espresso, Indian Filter, other Moka Pots

Coarse

French Press, Cold Brew

Whole beans

You're the best judge here!
Pickup available at 968 12th Main Road Doopanahalli Indiranagar
Usually ready in 24 hours
Micro Climate
Pouch / 250 gms / Whole Beans
968 12th Main Road Doopanahalli Indiranagar
Pickup available, usually ready in 24 hours
968 12th Main Road Doopanahalli Indiranagar
ARAKU ORIGINALS PVT LTD
560008 Bengaluru KA
India
Know your coffee
ARAKU Micro Climate is 100% Arabica
Rich, mellow, intensely fruity, it offers an aroma laden cup. With its generous body and wholesome notes of candied fruit, it lends itself perfectly to filtered brew, pour overs or a French Press. A unique coffee from rare terroirs of gently sloping, diversely shaded highland micro-plots situated on a river island.
Natural Process

Natural process, which yields our Signature, Grand Reserve, High Altitude and Micro Climate coffees. In the natural coffee process, the full cherry is dried prior to de-pulping. Natural processed coffee will taste fruitier and have a heavier body as the drying coffee beans absorb some of the sugars from the surrounding fruit.


Honey Process

Pulp-sundried or honey coffee is an eco-friendly process as it generates very little solid and liquid waste. The fruity and sweet notes of ARAKU's Selection and High Altitude blends are due to the presence of mucilage in the honey-processed coffee. Here, the coffee skin is removed and the coffee is de-pulped to varying degrees but no mucilage is removed and it is sent to the drying yard. The honey process is a rare and unique system that is almost exclusively used by specialty coffee producers as it is simple, affordable and intuitive.
Washed Process

Early Harvest is a washed coffee — these coffees are prized for their clarity and vibrant notes. The coffee cherries go through the Columbian Penagos pulper that removes the sticky mucilage surrounding the coffee seeds, and the coffee is left to ferment for 18-24 hours. Then the coffee is washed in fresh water and sent to the drying yard — removing the cherry prior to drying allows the bean's intrinsic flavours to really shine. In the semi-washed process, which is also used for ARAKU's Signature blend, some of the mucilage remains and after fermentation, the beans are sent to the drying yard. The mucilage lends mild sweet and fruit notes to the semi-washed coffee.
Micro Climate is sourced primarily from the riverine island of Baankubedda, surrounded by water and aerated by a refreshing wind, it houses just about 34 families. The coffee benefits from the incredible biodiversity, rare insects, and regenerative agricultural practices on these plots. The soil is compact, dark brown with scattered medium to big rocks.
Farmer Diary
Meet Chandrakala Limkiya
Chandrakala Limkiya, one of several tribal farmers cultivating ARAKU's rare Micro Climate coffee. She lives in Baankubedda village with her husband, Gangadhar, and three sons (all educated), who support the family in carrying forward the legacy of coffee cultivation. Her plot on this riverine island is accessible only by small boats. The island has been growing coffee since 1999 and is one the farthest villages governed by the farmers' co-op, known as Small and Marginal Tribal Farmers Mutually Aided Cooperative Society. During the harvest season, Chandrakala makes multiple trips in her wooden boat to pluck the reddest red cherries.

Regenerative agriculture
Fresh Roast
Fair trade
Certified Organic
Frequently Asked Questions
Yes, absolutely. All manual brewing techniques, including the Moka Pot, French Press, Aeropress, and Pour-Over, are ideal for ARAKU Micro Climate. Always keep in mind that the grind size is very important. Opt for a coarse grind for French Press. For Aeropress and Pour-Over, a medium grind and fine grind for Moka Pot and Espresso. For further details, refer to our brew guide section.
We prioritise sustainability and freshness. Our nitrogen flushing process keeps the coffee fresh, and we package it in reusable tins and refillable pouches.
To ensure that you always receive a fresh brew, ARAKU Selection is roasted to order. You can tell exactly when it was roasted as its roast date is listed on the packaging.
Store it in a cool, dry place, away from moisture and sunlight. Enjoy within three months for flavour.
Excellent flavour, medium strong
Good flavour
I used it with my french press. Wonderful flavour and taste
Excellent Espresso
I am yet to try this coffee with other brew methods, but I suspect that as with espresso, I will find nothing not to love about it as a pourover, aeropress, or whatever else.
Amazing coffee with lots of notes to explore
The coffee is pretty good and I can feel the presence of its multiple nodes. The perfect temperature I found for my brew is 91 degree water(250ml+15.6grams) in a French press for 5 mins duration. The packaging could have been better with a sealing pouch for longitivity of coffee beans.
Good
Love it. The coffee aroma of araku brewing is awesome. I can't speak about the Berry or chocolate etc notes, I'm not qualified but the taste is very good. I dont like bitter coffees and love a good coffee flavour, so microclimate is perfect for me. Make it a south indian or vietnamese filter which I've had for a long time. Dont use boiling hot bubbling water.