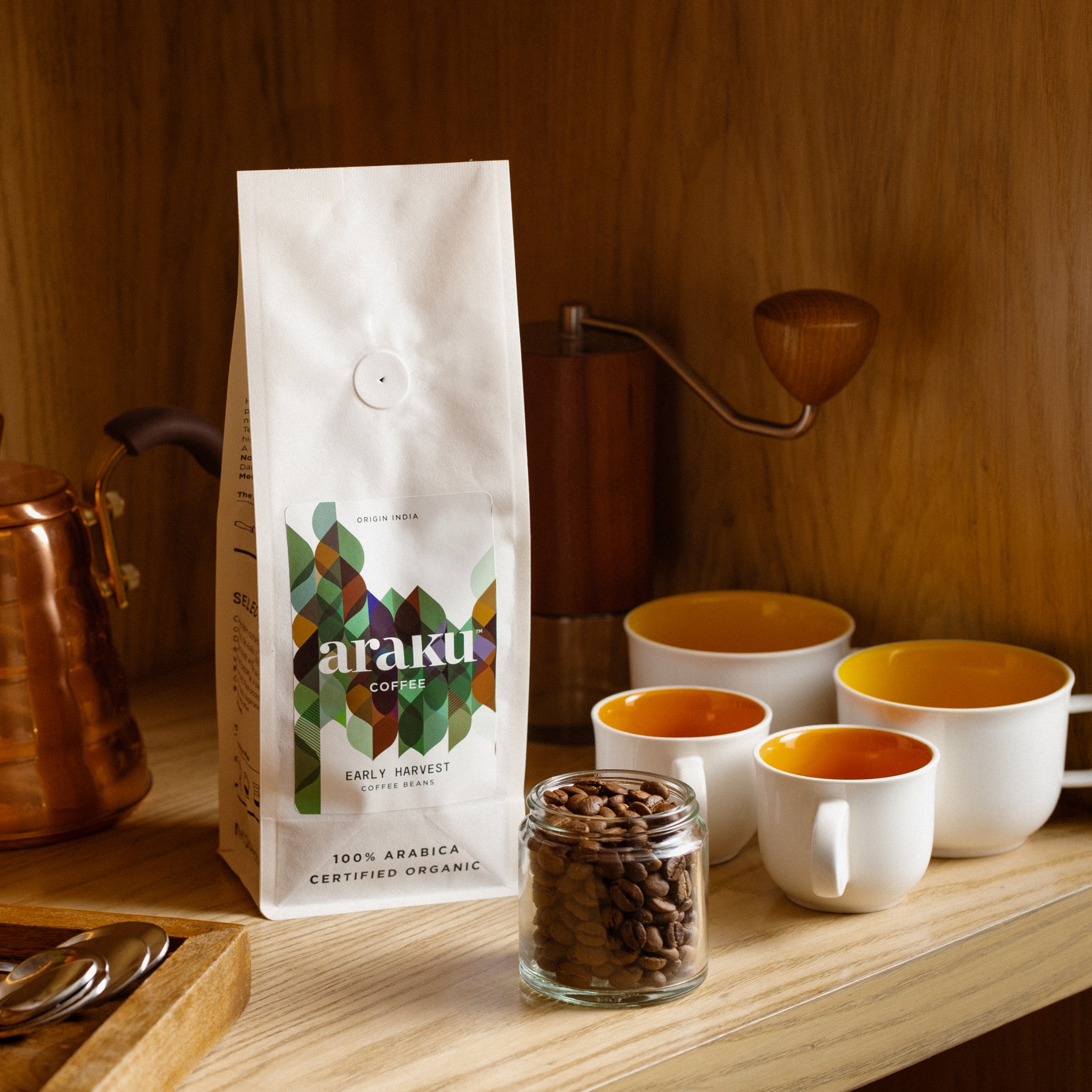 medium roast
Early Harvest
True to its name, these coffee cherries are picked early in the season. This coffee yields the brightest and freshest cup, similar to the first flush when compared to teas.
Not sure which grind to order? Checkout our grind size chart below for a quick brew tip!
TASTING NOTES
Honey
Starfruit
Green apple
Citrus
Pickup currently unavailable at 968 12th Main Road Doopanahalli Indiranagar
Early Harvest
Pouch / 250 gms / Whole Beans
968 12th Main Road Doopanahalli Indiranagar
Pickup currently unavailable
968 12th Main Road Doopanahalli Indiranagar
ARAKU ORIGINALS PVT LTD
560008 Bengaluru KA
India
Know your coffee
Early Harvest is 100% Arabica
With its berry, citrus and herbaceous notes, this coffee is for connoisseurs who like a light-bodied coffee with intense aromas. Springtime denotes a fresh start, a whole nine months after the rains. Jasmine-scented coffea flowers turn into verdant green fruit, an eventually crimson red cherries, ready to be handpicked. It can be compared to the first flush of tea, which is defined as the very first plucking of the tea plant during harvest season.


Natural Process

Natural process, which yields our Signature, Grand Reserve, High Altitude and Micro Climate coffees. In the natural coffee process, the full cherry is dried prior to de-pulping. Natural processed coffee will taste fruitier and have a heavier body as the drying coffee beans absorb some of the sugars from the surrounding fruit.


Honey Process

Pulp-sundried or honey coffee is an eco-friendly process as it generates very little solid and liquid waste. The fruity and sweet notes of ARAKU's Selection and High Altitude blends are due to the presence of mucilage in the honey-processed coffee. Here, the coffee skin is removed and the coffee is de-pulped to varying degrees but no mucilage is removed and it is sent to the drying yard. The honey process is a rare and unique system that is almost exclusively used by specialty coffee producers as it is simple, affordable and intuitive.
Washed Process

Early Harvest is a washed coffee — these coffees are prized for their clarity and vibrant notes. The coffee cherries go through the Columbian Penagos pulper that removes the sticky mucilage surrounding the coffee seeds, and the coffee is left to ferment for 18-24 hours. Then the coffee is washed in fresh water and sent to the drying yard — removing the cherry prior to drying allows the bean's intrinsic flavours to really shine. In the semi-washed process, which is also used for ARAKU's Signature blend, some of the mucilage remains and after fermentation, the beans are sent to the drying yard. The mucilage lends mild sweet and fruit notes to the semi-washed coffee.
Terroir
3034 to 4071 feet
Early Harvest is sourced primarily from Satta Mamidi and Seesa Munda, some of the oldest and biggest areas of coffee cultivation in Gondivalasa. It houses roughly 88 farmer families, most of them from a vulnerbale tribal group, known as Kodhu. 
The soil is mineral-rich, and terroir features very diversified shade ranging from wild trees to variety of fruit species. 
Farmer Diary
Meet Muvvala Krishna & Lalitha
Muvvala Krishna and Lalitha are young couple from Gondivalasa, in Araku, Andhra Pradesh. They hold a Bachelor's degree in arts, science and education, and are active members of the community. In fact, Krishna has been a President of the Village Development Committee. Their plot has consistently been among the highest producers of pepper – second only to coffee. They priortise crop diversity, and also bring out pulses, millets, turmeric.  
Regenerative agriculture
Fresh Roast
Fair trade
Certified Organic
Frequently Asked Questions
Yes, absolutely. All manual brewing techniques, including the Moka Pot, French Press, Aeropress, and Pour-Over, are ideal for ARAKU Early Harvest. Always keep in mind that the grind size is very important. Opt for a coarse grind for French Press. For Aeropress and Pour-Over, a medium grind and fine grind for Moka Pot and Espresso. For further details, refer to our brew guide section.
We prioritise sustainability and freshness. Our nitrogen flushing process keeps the coffee fresh, and we package it in reusable tins and refillable pouches.
To ensure that you always receive a fresh brew, ARAKU Early Harvest is roasted to order. You can easily identify its roast date on the packaging, ensuring you enjoy the freshest brew every time you indulge.
Store it in a cool, dry place, away from moisture and sunlight. Enjoy within three months for flavour.